When life rolls a challenging side of the coin to you, what do you do? do you accept it as fate,or do you fight to see whats on the other side of the coin. The Story of Issac Wright should teach you never to back down, never give up, always try again even when life present it worst to you.
Isaac Wright Jr. was just 29 years old when a judge sentenced him to life for crimes he did not commit.
Wright was accused of heading up a massive cocaine ring operating in New Jersey and sentenced to life in prison in 1991. Under the state's laws at the time, he would not even be eligible for parole until 30 years had passed.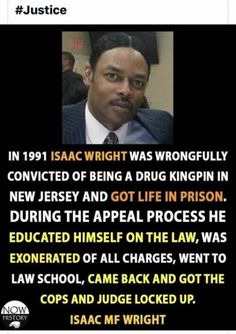 Wright wasn't guilty of the crime, but he fell victim to overzealous law enforcement, coerced false testimony and a notoriously corrupt prosecutor. However, Wright would never give up trying to prove his innocence and, today, he is out of prison and practicing law, describing himself as a giant slayer.
While serving his presumed life sentence, Wright didn't waste time feeling sorry for himself. Rather, he studied the law while preparing to appeal his conviction. He was installed as a prison paralegal and helped out with a number of his fellow inmates' cases.
In 1996, Wright and his lawyer successfully petitioned for a hearing, at which they made it clear his conviction was illegitimate. Narcotics detectives working for notorious Somerset County prosecutor Nicholas Bissell had illegally seized drugs and pressured his three co-defendants to testify in exchange for lighter sentences. At that 1996 hearing, the three recanted their testimony and accused Bissell of lying.  Bissell was tried in court for dozens of charges. He was found guilty on 30 counts, including obstruction of justice, perjury and abuse of power. He was put under house arrest until his sentencing trial. Two days before he faced sentencing, Bissell cut his ankle monitor and ran from his home, spurring an international manhunt.
Now a fugitive, Bissell crossed state lines and eventually led police to a Nevada hotel room. As officers broke down his door, Nicholas Bissell committed suicide.